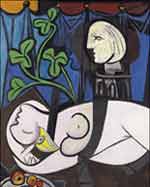 The most expensive painting to be sold at auction Nude, Green Leaves and Bust by Pablo Picasso is presented to the public for the first time ever in the UK at Tate Modern in London. The work has been lent to Tate from a Private Collection and be on display in a new Pablo Picasso room on Level 3.
Nude, Green Leaves and Bust is one of the sequence of paintings of Picasso's muse, Marie-Thérèse Walter, made by the artist at Boisgeloup, Normandy, in the early months of 1932.
Picasso first encountered Marie-Thérèse Walter in January 1927 but their relationship had to remain secret from his wife, Olga. Although Picasso had long disguised his affair with Marie-Thérèse Walter, Nude, Green Leaves and Bust is among the group of works which openly chart the obsessiveness between the lovers. It was painted on 8 March 1932 and is the most intense among the group of large nudes completed in single, sometimes consecutive, days and marking a high-point of Picasso's creative energy. The setting (probably in the sculpture studios of the Château de Boisgeloup outside Paris) includes a secretive curtain that provides the screen onto which the sculptural bust casts a double shadow. It is as if the white of the foreground nude was, literally as well as metaphorically, illuminating the space.
After many years in private hands, Nude, Green Leaves and Bust was sold at Christie's, New York on 4 May 2010 to a private collector for a world record price of $ 106.5 million (76.5 million €). Before it was sold, the work had been in the collection of LA based collectors Sidney and Frances Brody for almost six decades. They had acquired the work in 1951 from Paul Rosenberg, whom in turn had acquired it from the artist in 1936. During that period it had been exhibited publicly only once, in 1961, to commemorate Picasso's 80th birthday.