Impressionist and Modern Sale in London at Sotheby's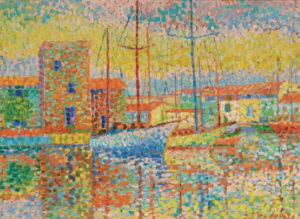 To notice among all the remarkable paintings on sale Wednesday, June 20, 2018, in London at Sotheby's, the lot 243, a painting by Serge Mendjisky, Port Grimaud in France.
A pointillist painting, which is now a landmark because it was made in 1969, for the inauguration of this famous seaside village in Provence.
Recall that in the late 1960s, Serge Mendjisky lived in the village of Saint-Paul-de-Vence, near Nice. He discovered near Saint Tropez, the project of creation of this port, as a true « new Venice » in Provence.
Attracted by this very original project on the sea, he meets his creator, the architect François Spoerry. This renowned village is located at the bottom of the Gulf of Saint-Tropez and was born from the desire of this architect to have a small house at the edge of the water with a boat in front of his door.
At the inauguration of this new seaside city in 1969, Serge Mendjisky created this painting of the Grand Canal, for the exhibition he is doing in Port Grimaud.
On this occasion, he also produced a set of 36 lithographs presented by Marcel Pagnol, Dunoyer de Segonzac, Henri Troyat and François Spoerry.
Marcel Pagnol, the famous Provençal writer, went so far as to affirm that « Serge Mendjisky pursues the same goals as Van Gogh, Cézanne, or Manet, and that he tries to show us the world not as he "thinks" it, but as he sees it, through his own sensibility, and to share with us his pleasure, and his emotion. »
For the event of the time, Serge Mendjisky delivers in this painting, with a light palette made of small touches of color, his first impressions of the Grand Canal of Port Grimaud. The houses, the tower, the boats and the reflections of the sea, in this brand new port, under the sun of Provence.
Impressionist & Modern Art Day Sale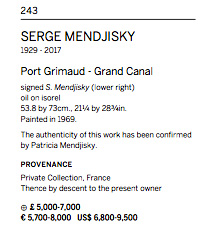 Auction in London Wednesday 20 june 2018
Session One : 10.30 AM 
http://www.sothebys.com/en/auctions/2018/impressionist-modern-day-sale-l18008.html