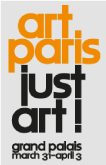 A project-based fair in Paris
ART PARIS, the Paris springtime event for the modern and contemporary art market, is returning to the Grand Palais's famous place, from March 31 to April 3, 2011.
Some one hundred international exhibitors are being asked to conceive stands that showcase painting, photography, sculpture, drawing, video, installations, etc.
The fair gathers more than 120 international galleries focusing on design, modern and contemporary art. 17 countries are represented, and more than 48 000 visitors are expected.
ART PARIS 2011 presents several exclusive artistic projects, but also geographic and thematic platforms and numerous cultural events for a stunning edition!
Art Paris, Le Grand Palais, avenue Winston Churchill 75008 Paris – France.
More informations: www.artparis.fr