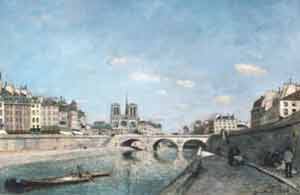 Johan Barthold Jongkind.
La Seine et Notre-Dame de Paris © RMN (musée d'Orsay)
The event exhibition from 12 April to 30 July 2011 at the City Hall of Paris
The canvases of Claude Monet, Edouard Vuillard and Edgar Degas will take over the Town Hall in Paris for an exceptional exhibition.
They marked the history of art. Monet, Edouard Vuillard, Edgar Degas, Gustave Caillebotte, Jean Béraud … The Hôtel de Ville will hosts the greatest Impressionist names, with paintings, pastels and drawings evoking Paris and its inhabitants at the turn of the century. This major, free exhibition is organised with the exceptional support of the Musée d'Orsay, the French reference on the 19th century and the Impressionist period.
In 1879, Édouard Manet was refused permission to decorate a room in the newly rebuilt Hôtel de Ville. One hundred and thirty years later, the Town Hall in Paris is paying tribute to the artist's dream: a selection of Impressionist works describing their vision of life will be on display in the Saint-Jean room of the Hôtel de Ville.
During its renovation work, the Musée d'Orsay is loaning out several dozen canvases and drawings. Most of these drawings have never before been displayed to the public! You will also be able to discover architectural documents and models showing the new identity of the Paris of Napoleon III.
Between 1848 and 1914, the new Paris was at the centre of artistic preoccupations. The Impressionists identified with the dynamic and eventful urban life, the boulevards, streets and bridges with their constant activity. The metro was built, allowing Parisians greater ease of movement.
 
Jongkind and Lépine, Manet and Degas, Monet and Renoir, Caillebotte and Pissarro would all become fascinated by the city and life of Paris, highlighting its modernity (Monet, Saint-Lazare Train Station). Gauguin and Van Gogh, Signac, Luce, later Bonnard and Vuillard also explored it, even its underground life, with The Underground.
The exhibition in the St Jean room of the Hôtel de Ville will allow the installation of monumental works. The first part, on the mezzanine, will present the changing city through paintings, pastels, architectural drawings and models. The large nave will be dedicated to an animated and turbulent Paris, with its wide horizons (The Orchestra at the Opera House by Degas, La Guinguette in Montmartre by Van Gogh, etc.).
Free exhibition at the Hôtel de Ville in Paris. Entrance: 5 rue de Lobau, 75004 Paris
.
Métro station: Hôtel de Ville (lines 1 and 7).
Every day except Sundays and public holidays from 10 am to 7 pm
More informations: http://www.paris.fr