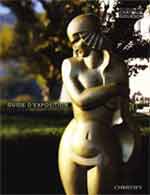 The collections of the Castle of Gourdon: a museum for sale
In Paris, Palais de Tokyo, took place Tuesday, March 29, 2011, the first auction of private collections in the castle of Gourdon, comprising one of the most beautiful set in the world of Art Nouveau and Art Deco.
Sales, which are spread over three days, are due to closure of the Museum of Decorative Arts Gourdon Castle, located in southern France, near Nice.
For this event in Paris, Christie's sales orchestra, the first consisted of 78 batches of exceptional pieces of Art Deco furniture.
The record sales went to the « chaise longue aux skis » (couch to ski) called the « Maharaja » by Emile-Jacques Ruhlmann, 1929, sold for 2,865,000 euros ($ 4,025,123).
The « table à jeux et suite de quatre chaises » (game table and four chairs) by Jean Dunand, estimated between 3 and 5 million euros ($ 4,241,836 to 7,069,727) has however been able to find a buyer.
The most lively auction also came back with two pieces of Emile-Jacques Ruhlmann. One for a cabinet called « cave à liqueur » (liquor cellar), from 1926, estimated between 300,000 and 400,000 euros ($ 423,000 to 564,000) and sold for 1,498,600 euros ($ 2,105,428). The other for a convenient « Lassalle » from 1925, estimated between 500,000 and 700,000 euros ($ 705,000 to 987,000) and sold for 1,801,000 euros ($ 2,530,278).
Finally, several pieces of Robert Mallet-Stevens (hairdresser, a pair of easy chairs, armchairs, …) were preempted by the Centre of National Monuments.
More informations : www.christies.com
Castle Gourdon : www.chateau-gourdon.com