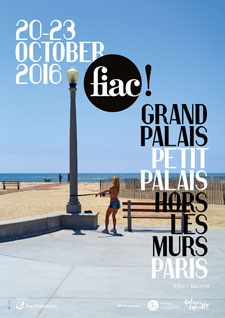 International Contemporary Art Fair – 20 to 23 October 2016
For its 43rd edition, the International Contemporary Art Fair (FIAC), one of the world's leading art fairs, will run from 20 to 23 October this year, bringing together 186 of the most prestigious galleries in the historical Parisian venue, the Grand Palais. Directed by Jennifer Flay since 2010, the fair is broadening the scope of its programme this year.
Fiac expands by presenting On Site, a series of sculptural works and installations at the Petit Palais, a historic building facing the Grand Palais that was built for the Exposition Universelle (World's Fair) in 1900 like the Grand Palais itself. The opening of the Salon Jean Perrin, the Grand Palais' new exhibition room, will focus on works by artists from the late twentieth century.
A Performance Festival, Parades, in association with the Louvre Museum will bring contemporary art into dialogue with music, dance, performance and poetry.
FIAC's public events programme, Hors les Murs is renowned for its unparalleled diversity and the beauty of its locations. The programme will be reinforced with works exhibited in public space, an artists' films programme, and three days of conferences. The itinerary will cover three emblematic venues: the Tuileries Garden (returning for the 10th consecutive year, in the context of FIAC's collaboration with the Louvre Museum), the Musée National Eugène Delacroix and the Place Vendôme.
Visitors will also be able to enjoy the « VISITES YCI! » presented by young critics and exhibition curators from the YCI (Young Curators Invitational) programme, created by the Fondation Ricard and FIAC in 2006.
FIAC 2016 in brief: 186 galleries, including 43 new exhibitors, 133 international galleries from 27 countries across the world – France (53 French galleries), the USA (34 galleries), Germany (26 galleries), Italy (14 galleries) and England (13 galleries).
More information: www.fiac.com