International Contemporary Art Fair – 18 to 21 October 2018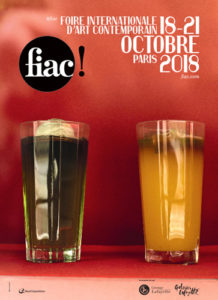 The 45th edition of the FIAC takes place in Paris and hosts 195 galleries in the spaces of the Grand Palais.
The selection, composed of galleries of modern art, contemporary art and design among the most emblematic of the international scene, presents the best of artistic creation from the modern masters of the early twentieth century to the most emerging trends, including represented by the Lafayette Sector.
FIAC Galleries will have 195 galleries for the 2018 edition, from 27 countries including 3 inbound countries (Greece, Peru and Ireland). Among the exhibitors, there is the return of 15 international galleries and also the participation of 18 new galleries. The design sector at FIAC, is on track with the return for the 2018 edition of five major galleries in the sector.
FIAC Projects presents some forty sculptures and installations at the Petit Palais, on the pedestrianized Winston Churchill Avenue and around the Grand Palais. For the works presented in the Petit Palais, FIAC Projects is this year conceived in collaboration with Marc-Olivier Wahler, Director of the Eli and Edythe Broad Art Museum at Michigan State University.
FIAC Hors les Murs, in collaboration with the Louvre Museum, present a tour of some twenty outdoor works in the Jardin des Tuileries, and a monographic exhibition of the English artist Rebecca Warren at the Eugène Delacroix National Museum. For Place Vendôme, FIAC Hors les Murs gave free rein to the duo of Elmgreen & Dragset artists to invest this emblematic place of Paris, in collaboration with Perrotin.
The FIAC also inaugurates a course of architecture on the Place de la Concorde. Exceptional installations are presented, creating a unique set of historic and contemporary architecture, an ephemeral village in the heart of Paris.
FIAC Programs presents for the duration of the fair a cultural programming of performances (Parades for FIAC), conferences (Conversation Room) and film screenings (Cinéphémère), free and open access.
FIAC – Grand Palais, Avenue Winston Churchill, 75008 Paris